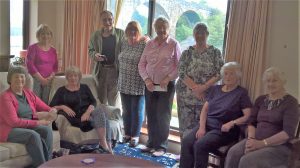 Our small friendly group meets on the third Wednesday of each month, to discuss stimulating wide-ranging topics.
We are in our third year now and have tackled a variety of very different subjects. We always enjoy hearing each others perspectives and opinions.
Each session, we focus on a topic selected the previous month, which is often relevant to what is currently happening in the news, and the world around us. It is useful to select the subject a month in advance as it gives us time to think, or do a little research.
While we do not always reach a consensus, it is interesting and thought provoking to be able to discuss subjects on which we often have different viewpoints, and bounce ideas around.
Our topics over the last few years have been many and varied, including reforming the House of Lords, both EU and Scottish Independence referenda, the NHS, free speech and political correctness, pensions, climate change, grammar schools, assisted dying, law and order, Islam, and population growth.
Our next topic is "what are the reasons for increasing polarisation of opinions, and what will happen if people cannot agree to compromise".
We start promptly at 2pm and start to draw to a close around 3.30pm. We meet in one of two homes, with ample free parking in both cases. We car-share where possible. There is no charge other than a small voluntary contribution towards the tea and cake.
As a couple of us have recently moved away, there is space now for 1 or 2 new members who would like to join us and use their "little grey cells".If you are interested in coming for a trial session, please contact me via the U3A website.
Valerie Taplin