This group meets in the SHADO building (next to the Leisure Centre car park) on the first Friday of the month, from 9.30am to 1230, and at our meetings we aim to improve our picture taking within a social environment, by helping each other.
We usually start by viewing our member's images on the theme of the month then cover some photographic topic, sometimes followed by a talk and a practical period putting theory into practice, or on a mini field trip if the weather is good. We can use digital imaging techniques to improve our images, using cropping, adjustments and filters. We can also learn how to manipulate an image, including sizing, rotating, the use of layers, and how to combine images, plus lots more.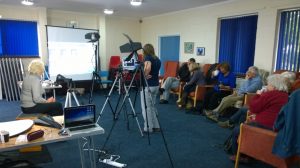 Portraiture workshop at the SHADO Centre
We try to have a field trip most months and one special trip usually organised by one of our members. Recently we have been to Totnes for a boat trip to Dartmouth, then by steam train to Paignton and back to Totnes by bus, also, in previous years we have travelled to Slimbridge and Falmouth. Other field trips have been to Dartmoor and Bodmin Moor for landscapes, Seaton and Portwrinkle for seascapes, the Buckfast Butterfly and Otter farm, Port Eliot, and Traffic trails around Saltash. We visit the WCPF photo exhibition each year and attend the Exodus wildlife photography lectures when at Exeter. Our recent trips were to Lanhydrock for the bluebells and to Golitha Falls.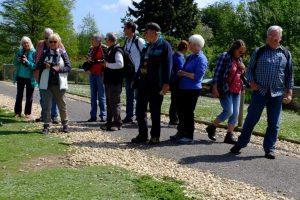 The Photography Group at Slimbridge, Gloucester 2015
Each year in March, we have an exhibition of our work in the Gallery of Saltash Library to coincide with the U3A Showcase event. For the exhibition we produce 60 prints that are mounted and presented to the public in a professional manner, plus prints for our part of the showcase. Our photos are also shown on the U3A website gallery.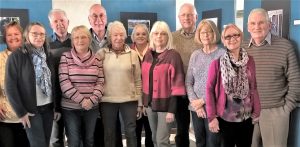 Saltash Gallery Exhibition 2018 Contributors

Coffee, tea and biscuits are provided at each meeting and we have an annual lunch in February or March; last year 34 of us went to St Elizabeth House for an excellent meal and members have voted to return there again this year.
New members are very welcome to join us; please contact Mike Corber on tiddy6@gmail.com or photography@saltashu3a.org.uk 
Click here to view the Photo Gallery.